APPLY FOR THE 1:1 HOLISTIC TRAUMA HEALING COACHING PROGRAM
Are you ready to become the conscious creator of your best possible reality?
Have you read the personal development books, practiced meditation, unpacked your entire life with your therapist, maybe even tried some SSRIs or anti-anxiety medications… but something still feels stuck?
I can help!
I want to help you…
get off the Hamster Wheel of Wellness so you're no longer chasing symptoms with expensive supplement protocols and "healing" diets
become aware of your own blind spots so you can show up differently in your life and relationships
bust out of the old "autopilot" programming and constrictiveness of trauma energy
learn to take care of your nervous system
feel safe in your body and with your own emotions and how to move the energy of emotions so it doesn't get stuck
identify ancestral trauma and become a cycle-breaker in your family
feel your feelings and learn how to interpret the language of your body
establish routines that prioritize your well-being and self-care
get to know your various "parts", how to work with them, and how to get your Highest Self back into the driver's seat
reclaim your sovereignty, self-trust, and authenticity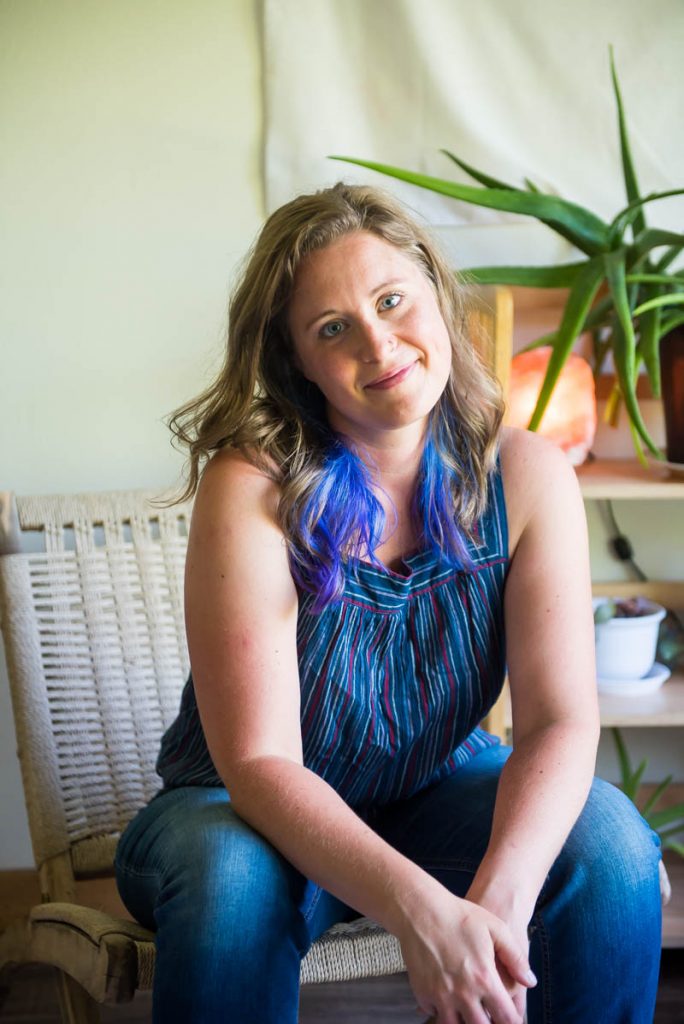 My Journey to Holistic Trauma Healing
In February 2019, I sat in a urologist's office — convinced I had bladder cancer. I had had symptoms of a urinary tract infection for 5 straight months, but each time I went to the doctor, the results were inconclusive.
I had also received a mysterious diagnosis of pelvic congestion syndrome a month earlier. I'd been bed-ridden with pain, having multiple panic attacks a day, losing weight fast, unable to work or drive, and unable to get more than 3 hours of sleep per night. I was an exhausted, dysfunctional, anxious train wreck. A ball of nerves. Full of fear.
One month later, I attempted suicide. Thankfully, my husband caught me. Two days later, I checked myself into the psych hospital and began taking psych meds.
I've been digging myself out of that deep, dark pit ever since.
Before 2019, I was a highly successful food blogger and a talented food photographer. After living through this and healing myself in so many ways… well, I think these things have a tendency to change the course of your life.
Once I was stable again and got the pelvic issues sorted out, I started an excavation process. I promised myself I was going to heal whatever got me into such a dark, hopeless place.
I knew I didn't get to the lowest point of my life from pelvic pain alone. Intuitively, I knew there was a lot of stuff buried way down in me, in my psyche, in my soul, even in my ancestry.
Somehow, therapy didn't fit anymore; it felt incomplete. And, I knew that psych meds were always a temporary thing for me (though I validate that this isn't true for everyone, and that's ok, too).
So, I did what I've done for over a decade of food blogging: I started educating myself, researching, learning information about trauma and unearthing ancient and modern techniques, modalities, and resources to guide me on my healing quest.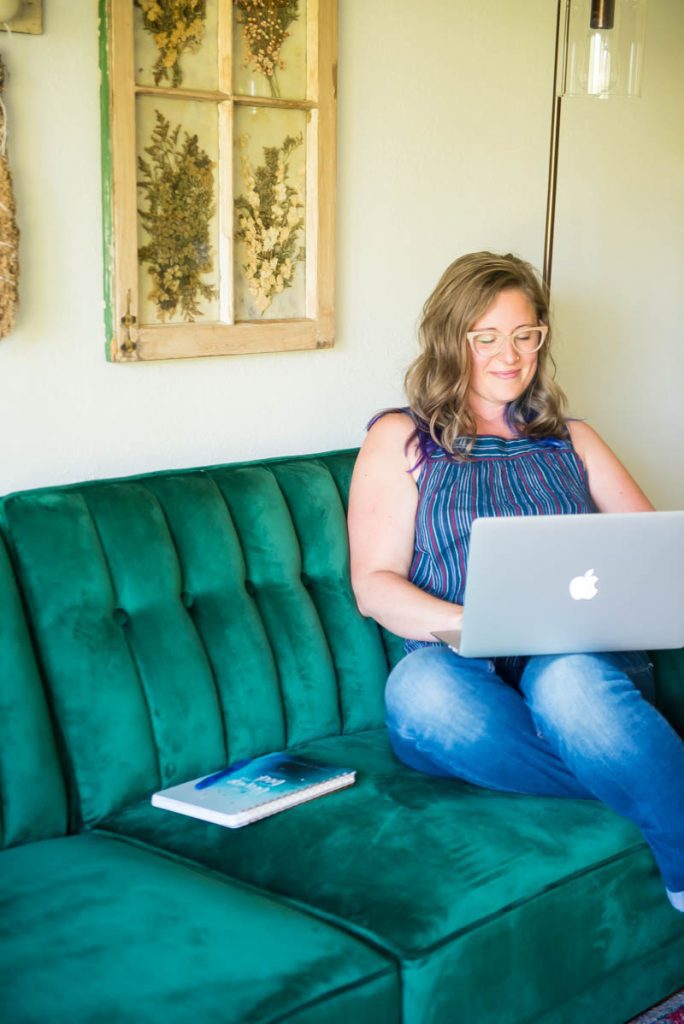 What I discovered was profound…
There were BIG gaps in trauma recovery, healing, and nervous system education.
Over months of study and experimenting on myself, I realized why therapy and psych meds didn't fit anymore: they didn't treat me like a whole person.
Childhood trauma, religious trauma, the trauma of being sick for months… all of it had affected every part of my existence.
How can we describe someone who shows the symptoms of trauma as "mentally ill" without also considering the ways in which trauma manifests with physical, emotional, spiritual, and ancestral sickness, too?
Trauma affects us as WHOLE people, every aspect of our existence, so why was no one talking about healing it holistically? Even a Google search of "holistic trauma healing" resulted in nothing.
The turn my life took wasn't sharp; it was slow and gradual. Long days of learning to breathe and taking care of my nervous system turned into months. The progress was slow and steady, but it was progress.
When 2020 began, I had lost all interest in my food blogging business. It was a fun ride, but it was no longer my purpose. My purpose was clear: to learn how to holistically heal trauma and help other people do the same.
I admit… I had no clue what that would look like.
I don't have a psychology degree or letters behind my name, and I'm not a therapist.
But I did have something priceless to offer: living proof that healing from anxiety, chronic illness, depression, and insomnia IS possible when we see ourselves as whole people and when our approach honors our whole-ness.
That's what "holistic" means.
Now, I am passionate about working with people who finds themselves at that place of hopelessness and fear — you KNOW life isn't supposed to be this damn hard, but finding your way back to ease and thriving feels too big to go at alone.
I'm so glad you're here… If you're already "all in", APPLY FOR THE 1:1 HOLISTIC TRAUMA HEALING COACHING PROGRAM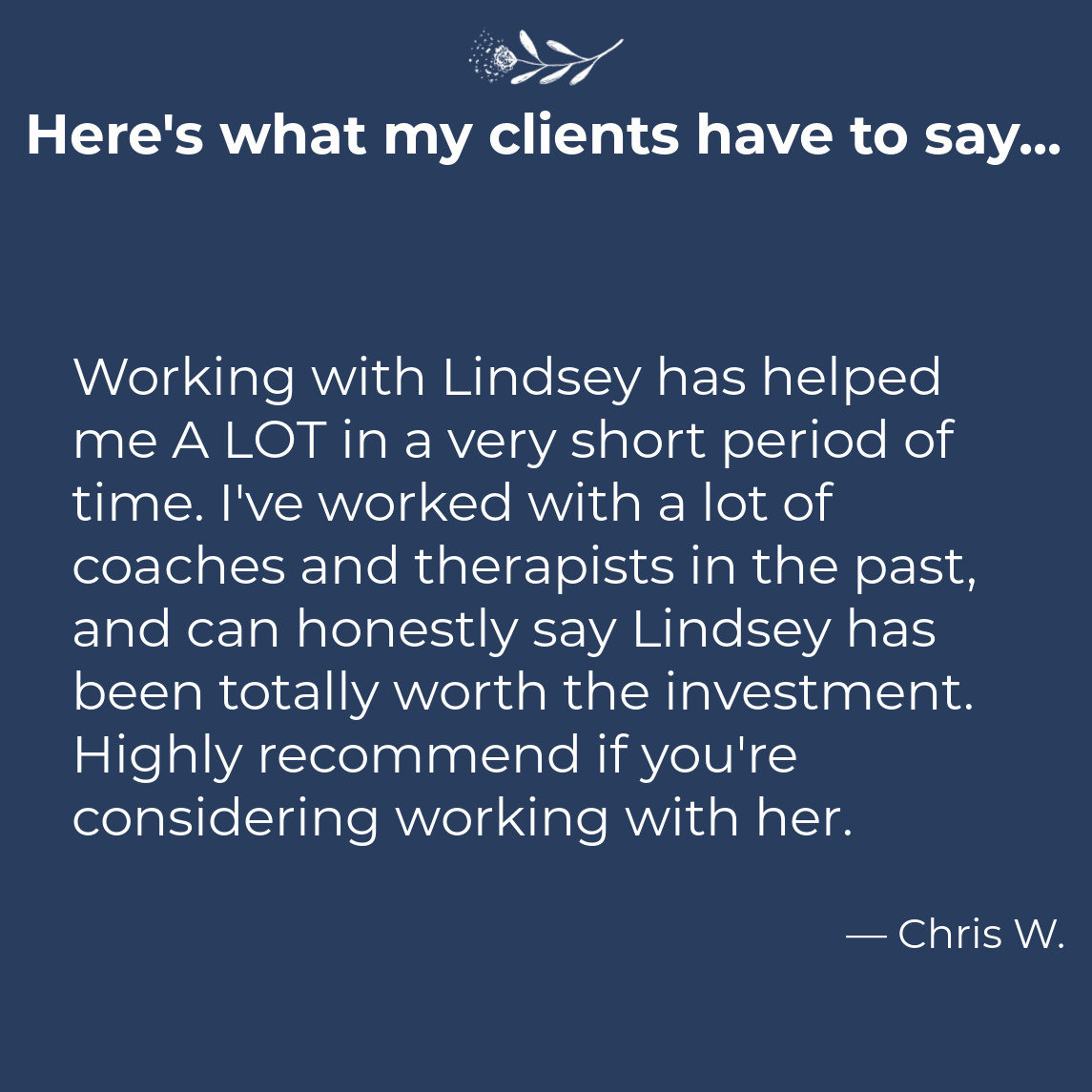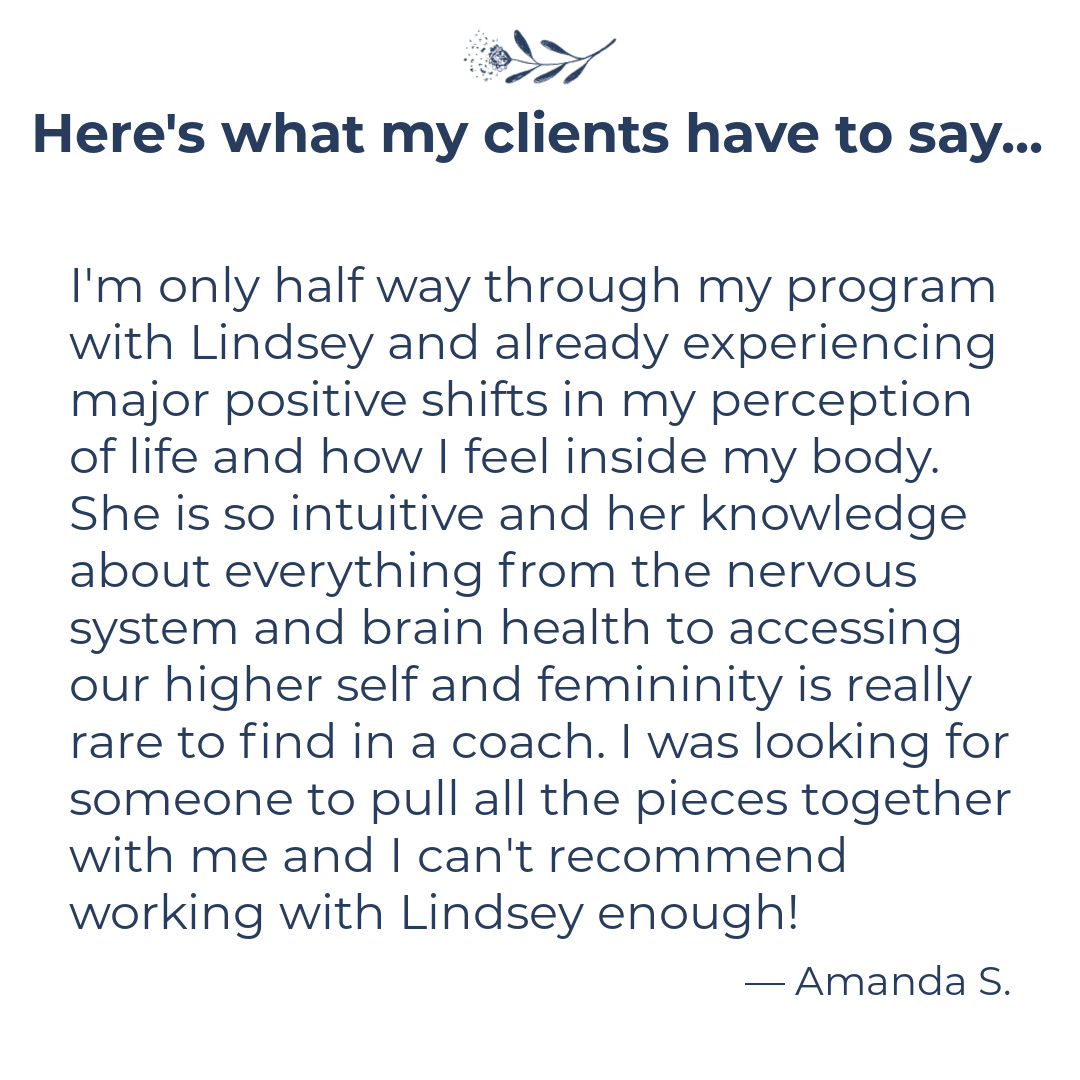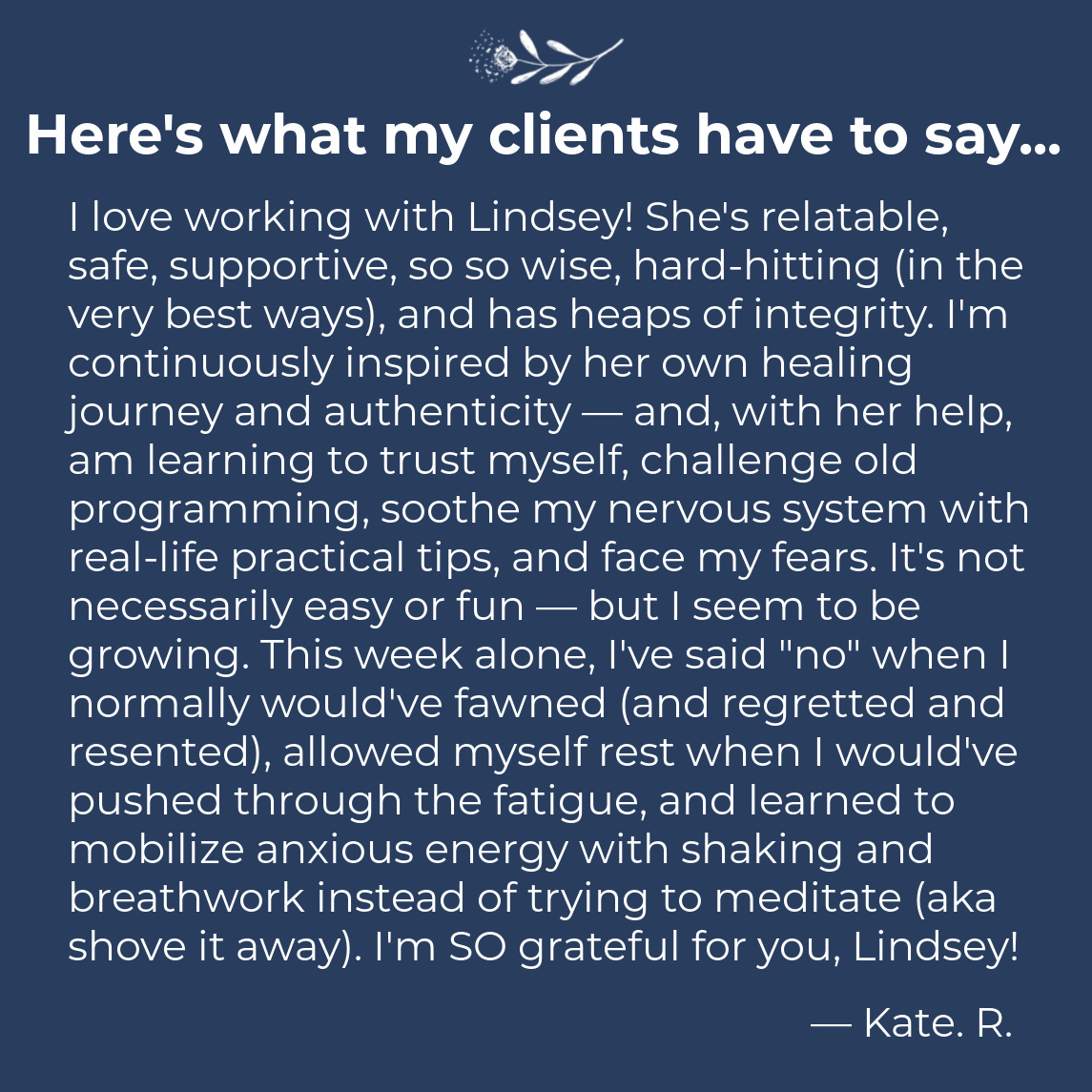 1:1 Holistic Trauma Healing Coaching Program
This program isn't for the faint of heart. It's intense and deep and focused.
We're going to get to your deepest wounds, your most limiting beliefs, and your greatest fears. Then, we're going to dig you out of that shit.
It's not serving you any longer, is it?
Maybe you just haven't been as successful as you'd like on your own. It's time to call in support.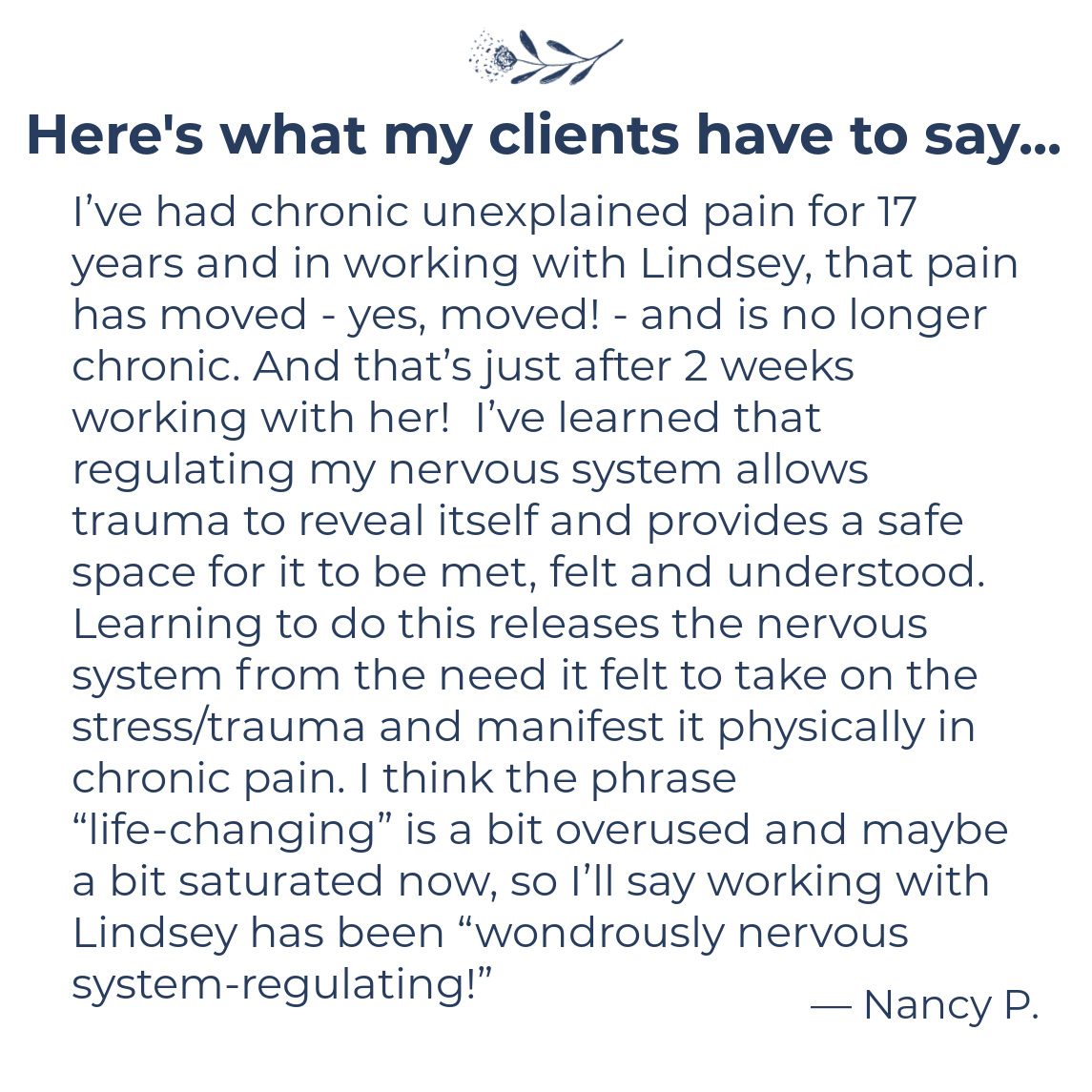 In this individualized 12-week program, you will receive…
focused, customized support just for YOU (This isn't a one-size-fits-all program; I meet you wherever you are and we go from there.)
6 one-on-one private coaching sessions
homework that includes nervous system work, embodiment, parts work, journaling questions that make you go deep, awareness, learning to identify and break your subconscious programming, Inner Child work, grief and anger work, and whatever else you need
Slack and Voxer access so you always have support in between coaching sessions
access to my group program, Nervous System Hygiene
lifetime membership to my private, online community, the Trauma Healers Circle, which includes bonus podcast episodes, group coaching calls, guided meditations, & my course Belief Beyond the Binary
Your investment? $2222 or 3 payments of $800.

FAQs
If it's a 12-week program, why are there only 6 calls?
I get this question a lot, and my existing clients will tell you they were hoping for 12 calls too, but here's the truth… While you will definitely experience breakthroughs during our calls, the real work is what you're doing between sessions.
I teach awareness, and awareness takes time. You'll learn to identify your own limiting beliefs, subconscious programming, habits and behaviors that aren't serving you and more, and it takes time to observe yourself. I don't want you to be without support should something arise between our calls, however, which is why every client has office hours-access to me on Slack and Voxer.
What are your credentials?
Life experience + thousands of hours of time + thousands of dollars invested in my own healing is my credentials. If you're looking for someone with degrees hanging on the wall and lots of letters behind their name, I'm not the coach for you.
I often have new clients ask me for the science behind what I do. While I'm sure the science exists somewhere, that's not the sort of coach I am. I cannot logically and intellectually prove to you what you will learn to embody as we work together. There is a big difference between intellectual understanding and embodied understanding. I'm here to help you discover the latter.
Is there financial aid or scholarships available?
For 1:1 coaching, no. I try to offer different price points for my workshops, membership, courses, and group programs. But coaching is intensely hands-on for me and for you, so we're both making an investment.
Why do I have to apply?
For this to work, we have to work well together. Not everyone will work well with me — because we have different opinions or beliefs, because you might need a therapist instead of a coach, because you're still in a traumatizing environment or relationship, or simply because we aren't an energetic match for each other.
Once you apply, I will read over your application and schedule a discovery call with you. Once we've both determined it's a good fit, we go from there.
What's the cost again?
For 12 weeks of support and coaching, transformational homework, 6 calls, and lifetime membership to the Trauma Healers Circle, your investment is one payment of $2222. If you need a payment plan, that's an option: 3 payments of $800.
Are you ready to see what's possible?